My Matrix-6R is on the Bench of Investigation because I'm rearranging my rack case and while it's out I've replaced the battery, dumped the patch memory, checked the power supply voltages, and made a trimpot adjustment to null out the DAC as per the service manual.
One thing that's always bedeviled this synth is glitchy LFO - an audible hiccup in discontinuous (UPSAW, DNSAW, SQUARE) LFO waveforms). I was trying to scope the LFO input to the Curtis CEM3396 voice chip (I'm assuming the LFO signals are coming out of a DAC) but when I do, I get this ripply mess on pin 2 of the CEM3396 when playing a patch with LFO1 in UPSAW mode controlling DCO pitch: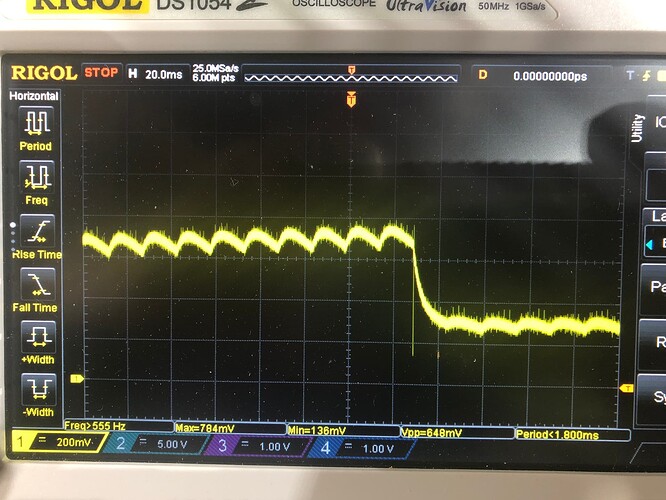 If I listen to the voice on which I've got the scope probe on pin 2 of the CEM3396, I can hear a "zipper" effect but only when the scope probe is touching the pin - pull it off and the zipper effect disappears. I've measured the frequency of that ripple at 66.7Hz - not power supply ripple.
In the photo you can see that downward spike at the sawtooth transient but before I try to investigate further I'd like to be scoping clean signals. I switched off my magnifier light on the bench to make sure it wasn't inducing this ripple, so that's not it. Any ideas what's causing it?